Across the Ocean on the Way to Mars
By Penelope Boston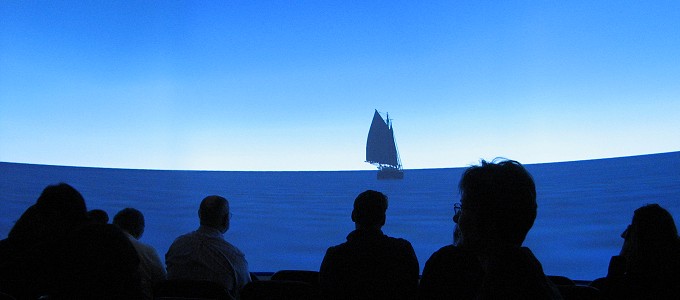 Watching the universe from two places at once,
The ship from three places at once
And the course painted from orbit.
I like this feeling of omnipotence.
A ghost boat across a ghost Earth
And the essence of the ghost universe
Plays across the background.
The hapless tourist sitting in front of me is clearly puzzled.
Growing sprouts,
And sketching whales of water
That dwarf even the Nazca figures.
If only the aliens were watching us now....
Images by Gus Frederick and Don Scott
---
Background: Mars Odyssey with Al Harrison, Carter Emmart and Reid Stowe
Al Harrison led our special Sunday afternoon session of "One Thousand Days at Sea," which featured a live interactive conversation between Carter Emmart from New York City's Hayden Planetarium and Reid Stowe on his sailboat in the South Atlantic, about 700 days into his ocean journey.

Al's opening talk discussed maritime analogues for space missions in general and introduced Reid's venture as an example in progress. From New York, Carter demonstrated the Digital Universe interactive software in NASA Ames' Exploration Center, with emphasis on interplanetary travel, while we listened in to a live satellite phone call to Reid at sea, sailing his non-stop voyage without any ports of call, as a Mars mission analog.
---

Go Home

"CONTACT: Cultures of the Imagination" is a Nonprofit Scientific and Educational Corporation.
© 1997-2009 CONTACT: Cultures of the Imagination, Inc. All Rights Reserved.